A Flock Of Seagulls - The Inflight Tour
Robin 2, Wolverhampton.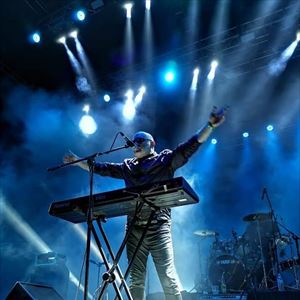 No under 14s in the standing area, 14 - 17s must be accompanied by an adult. No refunds will be given for incorrectly booked tickets.
More information about A Flock Of Seagulls - The Inflight Tour tickets
During the heart of the new wave era, there was just one band that made us all want to run. That band was A Flock of Seagulls, a new wave act that had killer haircuts and even killer tunes.
The band came on at a time when new wave music was beginning to explode on the music scene, and their synth-laden sound and futuristic look fit the time with perfection. Thanks to their iconic track "I Ran," A Flock of Seagulls will forever be remembered as one of new wave's best one-hit-wonder groups; but, in actuality, the band was much more than that one song.
A Flock of Seagulls came together in 1980 under lead singer and keyboardist Mike Score. Before forming the band, Score was a hairdresser, but he was also talented on keyboards, and with synth-based music becoming a focal point on the pop scene, Score saw it as his chance to break into the burgeoning scene.
The band's first single was "(It's Not Me) Talking" through Cocteau Records, which would eventually lead to a major record deal with Jive Records in 1981. Not long after the ink dried on their contracts with Jive, A Flock of Seagulls released their second single, "Telecommunication," that found it's way to the Billboard Dance charts (#19) by the end of the year.
After releasing the EP Modern Love, the band would release the hit that would launch them into the new wave stratosphere. That song was "I Ran," a fast-paced song that became one of the biggest hits of 1982, reaching the inside of the Hot 100 (#9) and becoming the driving force behind their self-titled debut LP reaching number 10 on the Billboard 200 and going Gold in the States (it went Silver in their native UK).
The video was even more iconic, as by the summer of '82, "I Ran" entered into heavy rotation on MTV, giving the song added shelf life.
While 1982 was wonderful for A Flock of Seagulls, with an iconic track and hit album under their belts, 1983 wouldn't be so kind. Although they would have another hit in "Wishing (If I Had a Photograph of You)," it wouldn't be nearly as iconic or successful as "I Ran," and the album that bore the single, Listen, slipped six spots from their debut on the Billboard 200 (#16).
From there, the writing was on the wall and the band splintered apart and called it a career in 1986.
Afyer their beginnings almost 40 years ago Mike Score has since re-formed the band with a brand new lineup including Lead Guitarist Gordon Deppe from Canadian New Wave Era Band 'THE SPOONS'