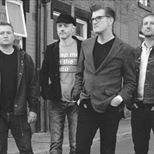 The Smyths
Komedia, Bath
STANDING // 14+ (U16s must be accompanied by an adult) // DOORS 7:00pm
AUDITORIUM – Standing.
Standing – please contact us if you have any specific access requirements
14+ only. 14s to 15s must be accompanied by an adult. No refunds will be given for incorrectly booked tickets.
Brought together by a shared passion for The Smiths, The Smyths are more than a tribute band- they recreate what is was to see and hear The Smiths live focusing on the sound and spirit of The Smiths live. 500 shows and worldwide appearances later and they are now in the in the top tier of tributes globally. The word tribute has also developed and grown in respect in that time, coming to represent something that is not silly or trite but the best way to see and experience the music of bands no longer with us played by artists who are as passionate and dedicated to their shows as actors and actresses.