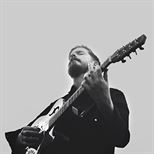 John Smith
Howard Assembly Room, Leeds
Doors Open 7:30 PM. Starts 7:45 PM.
Performing: John Smith
Ben Howard calls singer, songwriter and guitarist John Smith 'a magician'.
His guitar work, honey-on-gravel vocals and uniquely intimate approach to song-writing and live performance have brought crowds everywhere to pin-drop silence and a rapturous response.
John has played to audiences all over the world, in living rooms, festival tents and sold-out concert halls.
He performs songs from his eagerly awaited new album, due for release in Spring 2017.
Spellbinding
— Time Out